Happy New Years ..
.
.
..
As always I have been away for quite some time now.  I've been a busy, stressed little bee lately, but that okay.  My mom surprised me with this Starbucks Cable Knit Mug, that I had been trying to find for a couple of months, to no avail. Because I drink tons of coffee and teas, it has quickly become my FAVE mug.   
I did get a few projects done before the end of 08. I made those cute and simple hand warmers. When I finished them, the first thing that my mom said was, "I surprised you didn't put a flower on them, you put flowers on everything". The funny (or sad) thing is that I was debating before I showed them to anyone, if I should add a flower or not.  
I did make the flower detachable, cute Huh?
My niece's dad bought her a shirt that she already has in the same size and everything, so I did a onesies Revamp.  I just crocheted a little mini skirt onto the little shirt with a mini heart brooch, to match the hearts that cover the onesies.

I also made a few hats for the little one in the family. Mostly food themed hats. Including a Cupcake and a Pumpkin Hat. Sorry the Cupcake picture is from the trusty camera phone, which was the only thing handy at the time.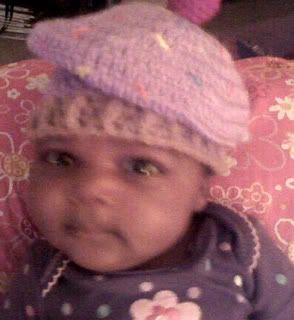 Thanks for stopping by..........I'm hoping that everyone has a very successful, elevating, less stressful and joyous new year. I just rang in the New Year Blogging, What does that mean? Oh well, Back to my piles of WIP's---
HELLLLLLOOOOOO '09
☆♥☺
☆♥☺
I Love my new President
☆♥☺
☆♥☺
Miss you and love you much  R.I.P  Auntie Ann